Since the 13th century, the building has seen only a few alterations that have not impaired the magnificent coherence of its Gothic architecture:
14th century: the chapterhouse, with the Chapel of St Piatus above it, built between 1325 and 1335, later adjoined to the cathedral by a stone staircase covered by a gallery.
15th century: the Vendôme Chapel, built in 1417 between two buttresses of the nave, on the south side.
16th century: the spire on the north bell tower, the work of the master mason Jehan de Beauce, added to replace the wooden spire destroyed by lightning in 1506. This was followed by the carved screen enclosing the choir, which has the dual role of separating off the space reserved for the canons and providing a lesson in sacred history. Begun by the same Jehan de Beauce, it was completed in the 18th century.
During the Revolution the treasury was pillaged, the Romanesque statue of the Madonna was burned, many of the bas-reliefs were vandalised and the lead roof was removed and melted down.
In 1836, after restoration had begun, a fire destroyed the original wooden roof frame. The architect Baron designed a fireproof cast-iron roof truss roofed with copper plates, which remains today one of Chartres Cathedral's distinguishing features.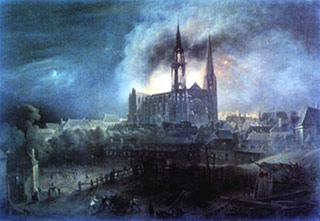 During the Second World War the stained-glass windows were removed as early as 1939 as a precaution, but the cathedral fortunately did not sustain any bomb damage. Today, eight centuries after it was rebuilt, this magnificent symbol of the mastery of space and light created by its Gothic builders continues to raise is proud profile high above the wheat fields of Beauce. After surviving the ravages of fires, storms, religious conflicts, the Revolution and countless wars, it today faces another menace: pollution, which represents a major threat to the cathedral.